The Graham Hart Show will be Streamed Live Tonight on this Monday, October 23rd from 6-8pm eastern. Graham will be once again joined by Brian aka "Brizer" and His featured guest will be Miriam Al-Fatah - A Libyan activist residing in Souhern Europe, who has just returned from Tripoli.

Thursday, April 11, 2013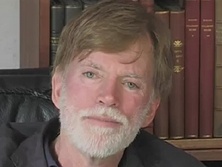 Today: Dr. David Duke and Dr. Kevin MacDonald have a great show today. Dr. Duke launches the show with his update which includes an expose' of the torture porn of Eli Roth and how Hollywood is the real source of the mass killings and carnage in America and around the world. Then he talks about a Polish Professor who writes about the Jewish role in Communist Slaughters in Poland at the beginning of the Second World War, and how the Poles knew clearly the Jewish collaboration with the Bolshevik murderers and revenge for those acts (such as the Katyn Forrest Massacre) was part of the reason for the reprisals against Jews. The Professor condemns any sort of murder or human rights violations but says it is important historically to understand motivations and factors behind such acts. Then Dr. MacDonald comes aboard and gives a lot of facts from his research about the Jewish racist practices in Poland for centuries and the two academics apply the issues in Poland to the Jewish racist discrimination that exists in America today.
David's site
56k CF
Download
Posted by zapoper
at 12:50:00 PM
4 comments: