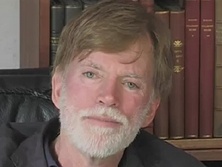 Today was a foundational show about the role of organized Jewish criminals in prostitution and white slavery. Dr. Duke discussed the development of the nuclear family in Europe and East Asian in evolutionary terms and how this then became the basis for morality in these societies. He then went on to describe the harm that is done both at the individual level and the societal level by prostitution and white slavery.
The Jewish role in human trafficking over the centuries is well documented, and he went over some of the evidence. Then he brought on Dr. Slattery, who provided some of the background for the Jewish trafficking of women from Eastern Europe.
This is a show that exposes an aspect of Jewish supremacism that is not well-known or understood by most people. Please circulate it widely.
Davids' site
Rense Archive
56k CF
Download